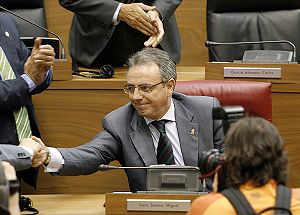 Nobody should decide for the people who have the power for making decisions. This is also true for Navarre. In ancient times, the Old Reign´s Foral Power ruled the lifes of citizens of Navarre. Nowadays, sovereignty seems to be forbidden in Navarre. There has not been respect for the decision taken by the socialist party of Navarre (PSN) and nobody seems to care about it in Madrid (even leaders of Socialist Party of Spain).
A few days ago, all members of the executive of Youth Socialist Party of Navarre turned in their resignation. They are not the only ones who have given up in the last hours (remember the case of Fernando Puras). How many members will go on giving up for the next days?
Today, Miguel Sanz has been elected as the president of Navarre for the next four years. It is said that nobody in Spain resigns from a political post. Maybe it will not happen in the case of members of Socialist Party of Navarre. Sincerely, I don´t mind about it, because the damage against Nafarroa Bai –basque party who got the second position after the elections for Parliament- is already done. Those who dreamed with the political change in Navarre will have to wait again. And for sure they have been waiting for a long time: exactly the last eleven years which Miguel Sanz ruled Navarre for.
This would not have happened in Catalonia. Actually, the Socialist Party of Catalonia usually takes its own decisions and it doesn´t care about the opinion shown at the main headquarters of the party in Madrid. That´s the way it would have to be in the old Iruña. Sad but true.